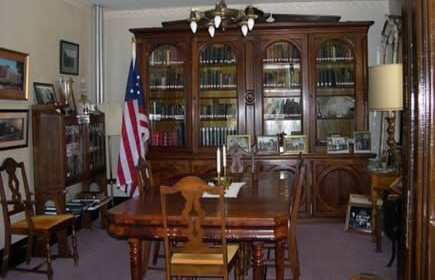 The Dining Room table mirror, bookcase and clock all came from the Lintner estate.
Aside from the furniture you will find a wonderful framed picture of the covered bridge built in 1821-1822 at the cost of $5,000. The pine lumber was rafted down the Allegheny River to the Kiskiminitis to the Conemaugh and to the bridge site. The toll house was on the Bairdstown side. The first toll keeper was paid $50.00 per year. The toll for a family was $1.50 per year. The bridge was said to be the longest single span bridge in the United States at that time.
There are hinges from the first house built in Blairsville… finished on March 18, 1819. When lots were auctioned on Nov. 11, 1818, Mr. Campbell offered a free lot to the man who completed the first house. Issac Green won.
The bookcase holds a collection of novels from the Robert Lintner estate.
The small bookcase holds a statue of Fr. Gallitzen, the first priest to say mass in Blairsville.
Housed in this room are auditorium seats from the old high school, silver spoons from the Julia Johnson estate, pictures of the original Sts. Simon and Jude Church and the Convent.
Last Updated ( Thursday, 08 March 2007 )